Mad's Homemade: Ranch
I remember the first time I saw someone eat their pizza with ranch. I was just a kid, maybe 9, I was at my Aunty Kako's house and my cousin Christian was drizzling ranch dressing on his pizza. I want to say it was Dominos. I remember thinking it was the most strange and disgusting(to be honest) thing I'd ever seen. Fast Forward a couple minutes later to this very second at the age of 30 and I can't eat a slice of pizza without dipping it in ranch or asking the server if they have any.
Over the last couple of years the amount of pizza I've eaten has gone down significantly but Ranch has still been my favorite go to dressing for all things salads, dips, and drizzles. And if I am at a restaurant asking for a side of ranch just know I'm not planning on sharing it so you'll have to ask for your own.
After many rounds of Whole30 and having a paleo based diet along with my food freedom I find myself only buying dairy free dressings. The thing about living dairy free or limiting the amounts has me missing the creamy joy it brings me with certain foods. These days it's pretty easy to come across AMAZING dairy free products that are made with real ingredients with brands like Tessemae's and Primal Kitchen but there's nothing quite like making something at home.
Let's talk cost. Living a dairy free, sugar free, and grain free lifestyle can get expensive! Using simple, clean, and easy to find ingredients makes my homemade ranch nothing but easy and you'll save some $$$. I still buy dressing from my favorite Whole30 approved brands but it DOES cost more and if I have the time and ingredients on hand why not just make my own? Trust me, it tastes so good you'll only want to make this instead of buying something where you can't read the ingredient list.
The make time is about 30 seconds and prep time is about 5 minutes. The base of this dressing is Light Tasting Olive Oil and full fat coconut milk and 1 egg. You MUST use LIGHT TASTING olive oil. This rule goes for most creamy dips or dressings you make. Otherwise it will taste very olivey and just off.
Most homemade dressings call for a room temp egg. For ranch it doesn't need to be unless you want a thicker dressing. You can also get thickness from an egg right out of the fridge and use the solid part of the coconut milk. I personally mix the coconut milk so the consistency is even throughout because I don't mind a thinner ranch.
Since the recipe calls for only 1/2 a cup of the coconut milk you can freeze the rest to have on hand. Just measure out the rest of the coconut milk and freeze them in silicone cups. That way, if you make some ranch you can just grap, defrost, and blend. I can get about three batches of dressing from 1 can.
I've made it a couple times now. It's lick the spoon good and my boyfriend and I are obsessed!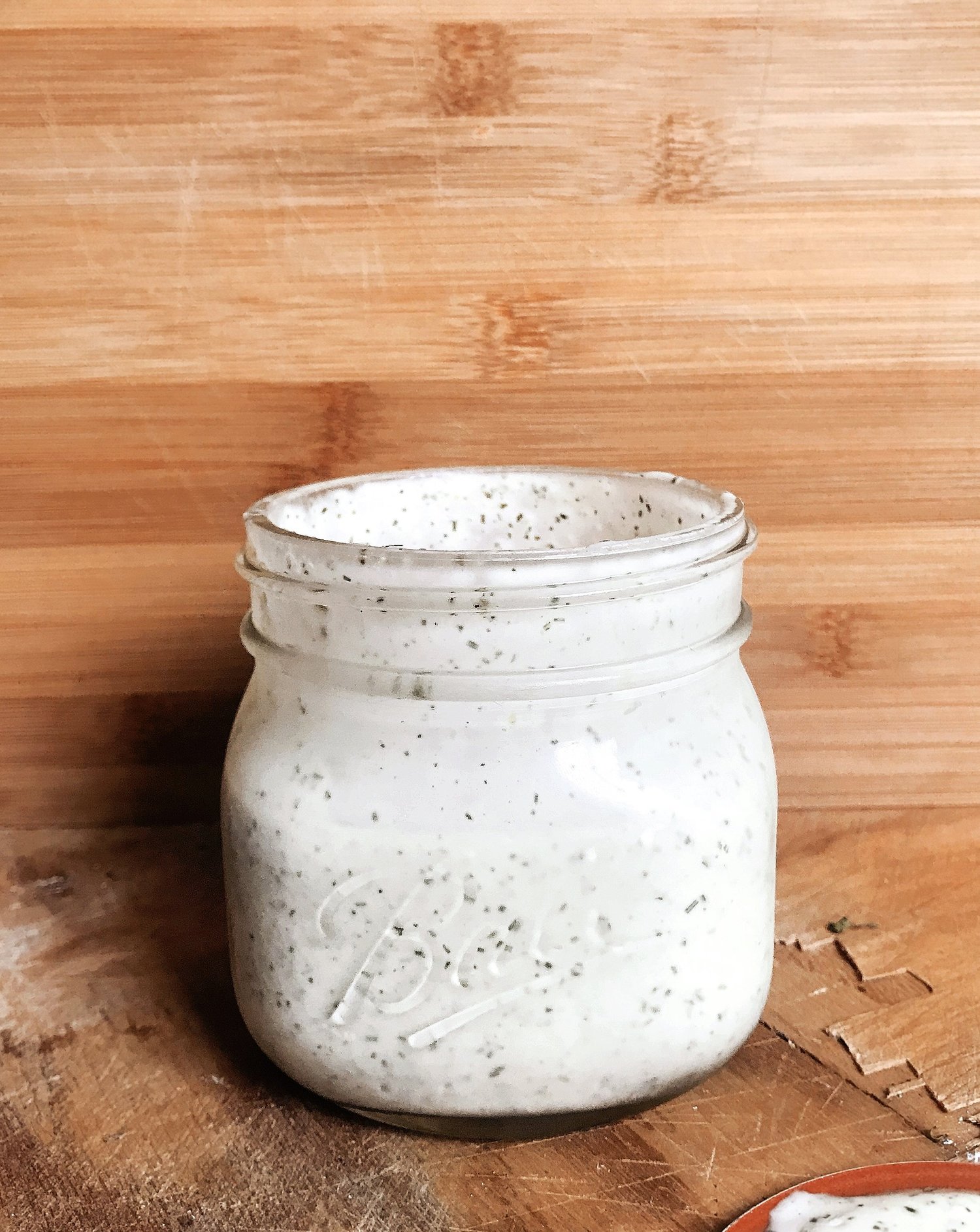 Mad's Homemade Ranch
prep time: 5 M
cook time: 1 M
total time: 6 M
A delicious dairy free and sugar free ranch dressing - keto, paleo, and whole30 friendly
instructions:
How to cook Mad's Homemade Ranch
Put all ingredients into your vessel in the order listed above. Add the dill after you've put the blender all the way in over the yolk unless you don't mind green dressing.
Blend and keep over the yolk for 10-15 seconds before raising up, mix for about 15 more seconds and blend in the Dill last for 10 more seconds and done!